A car show wouldn't be a car show without a few concept cars — those futuristic, one-off design studies that more than likely will never make their way to production (or even close to it), but are guaranteed to draw a crowd. And the L.A. Auto Show, which officially kicks off on Friday, Dec. 1, has more than its fair share of stunning concepts. In fact, early reports are that the concept cars are stealing attention away from the numerous (and admittedly impressive) production cars being introduced this week. It's easy to see why — they're truly one of a kind. Check these out.
Mazda Nagare Concept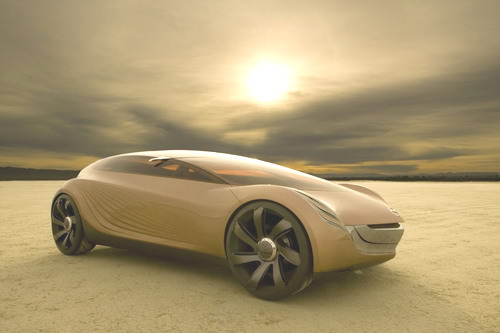 Mazda calls the Nagare (pronounced na-gah-reh) "the first indication of Mazda's future design direction." If that's true, we're on board — where do we sign up?? Granted, it might not exactly fit in with the other vehicles in the parking lot at the local Walmart, but that's beside the point. The Nagare was designed to embody the word flow, and it fully succeeds. Access to the cabin is provided by two doors that hinge at the top, so they lift upward like a bird's wings. The driver sits front and center in the vehicle, facing an instrument panel that looks like something right out of the space shuttle. The steering wheel is a semi-circular affair, almost resembling well-padded bicycle handle bars. And passengers sit in the ultimate sculpted seats behind the driver. Supposedly this is what vehicles will look like around the year 2020. If so, we can't wait.
Guigaro Concept Mustang
The quintessential American car gets an Italian makeover by Fabrizio Giugiaro, son of the famed automotive designer Giorgetto Giugiaro. The visual cues, especially in the rear, are reminiscent of the fastback Mustangs of the late '60s, though this car is wider than the current production model and longer in the front. It also features hinge-up doors, though these are similar to the Lamborghini Diablo's gullwing doors. The dash looks like it might have come from a '50s-era Cadillac, with its chrome circular gauges, and the exterior orange color scheme is carried over to the interior, where the four-seater features deep bucket seats with horsehair headrests — what else would you expect from a Mustang?