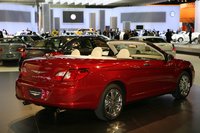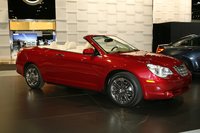 Other than incremental rentals from the local Enterprise, no one's given the Chrysler Sebring convertible much love since it hit showrooms in the mid '90's. The bland design and weak powertrain relegated it to its established status as a temporary droptop for a quick trip to anywhere with enough sun.
Chrysler aims to change that perception when it releases the 2008 Sebring this spring. The new model will come in three trim levels: Standard, Touring, and Limited. The Standard model gets a 2.4 L, 173 hp 4 cylinder powertrain with 4 speed automatic transmission, an upgrade of 23 hp from the previous year. The Touring and Limited trims get a 2.7 L, 189 hp V6. If you need more oomph, opt for a special Limited trim that boasts a 3.5 L, 235 hp V6 engine with 6 speed automatic transmission.
While all three trim levels sport a soft top, the Touring and Limited models offer an optional 3 panel retractable hardtop that makes it a little safer to sunbathe. Chrysler also adds some high-tech extras to the new Sebring, including heated cupholders and Sirius Satellite Radio.
Unfortunately, the 2008 Chrysler Sebring just doesn't have the same aesthetic appeal as the competition. However, if you don't mind looking a little inconspicuous on the highway, the new Sebring may have just enough in the tank to make it worth your while.
For more info, check out the following links:
Do a 360 degree tour on YouTube
– Posted by Taeho Lim