The Frankfurt International Motor Show (officially known as the Internationale Automobil-Ausstellung, or IAA) has just kicked off in Germany, with nearly 90 new cars scheduled for introduction over the next few days. The focus for many of the debuts will be fuel economy and sustainability, and in fact "green" seems to be the watchword for the entire proceedings. Many of the introductions, such as the Mercedes-Benz F700 (above), are concept or test cars. The F700, for instance, will probably never make an appearance in your local showroom, but will be used to test out new green technologies, such as its small (1.8 liter) yet powerful (238 horsepower) four-cylinder DiesOtto gas engine that gets about 40 miles per gallon.
While Mercedes goes upscale, other automakers are downsizing. Volkswagen, for instance, introduced its Smart-Fighter mini-car, which is said to eke out 100 miles per gallon. And Toyota will respond by showing its Endo microcar (below), which is just under 10 feet long but can comforably seat three adults and a child. According to rumors, the Smart-Fighter might be headed to the U.S., but no word yet on the possible availability of the Endo here.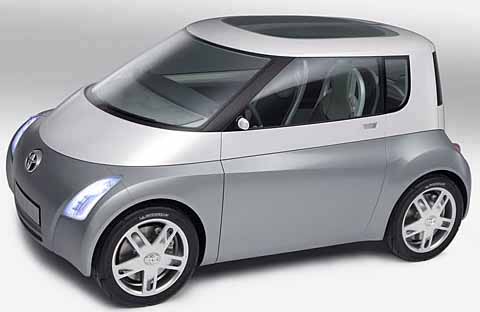 As you might expect, hybrids will also make a number of appearances, though according to a recent article in The New York Times, the Europeans are still not entirely sold on hybrid technology. Opel, for instance, will show its new Flextreme concept car, which will be driven by a hybrid/diesel combo. And a number of debuts, including new models from VW and Audi, will feature new or updated diesel engines, which is a green technology more in line with European thinking.
Then, of course, there's Lamborghini, which (perhaps not surprisingly) has decided to go in a completely different direction by unveiling its limited-edition Reverton supercar, with a price tag of just $1.4 million (one million Euros). Twenty of the cars have already been sold, mostly to buyers in the U.S. according to the Italian automaker. Well, we can't all be green, I guess.