It's exotic, it's fast, and it's purely un-American. Saab's Aero X concept car is the Swedish maker's way of proving that it's not under its U.S. parent's thumb. Even if Saab never releases a car like this, it still makes the statement that it's more a jet than a GM.
The flashy coupe is meant to scream "jet" both inside and out. Its sleek, low-lying, carbon-fiber body features a wrap-around windshield that eschews A-pillars and shrugs off headwinds while it affords the occupants unobstructed vision.
It also catches a lot of eyes – at least it did so at the 2006 Geneva Motor Show. What captures the most attention is its canopy-style opening, wherein the doors are connected to the windshield as a unit, which is raised up and rearward, fighter-jet style, for entry and exit. The huge wheels garnered some attention too: the front ones are 22 inches and the rear ones are 23.
The telltale Swedish badge adorns its face, as do unusual smoked-glass headlights, but the intakes are exaggerated over the familiar three-port grille and slanted Saab look that we're all used to. But in case we start to forget, the overriding aeronautical flavor is more than enough to remind us who has made this car.
Inside the jet theme is just as obvious in the absences of dials and buttons, as well as wood trim and carpeted floor. Saab looks at those things with a big "tut-tut," simply because you won't find them in any jet, so why would you expect them in a car that was Born from Jets?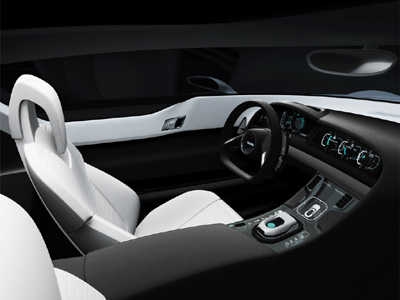 The speedster's power source is a 2.8-liter, twin-turbo V6 that eats ethanol exclusively to power its all-wheel drivetrain, which allows it to produce a very hefty 400 horses and 369 lb.-ft. of torque. Wowza. A 7-speed paddle-shifted manual transmission with dual-clutch set-up moves things along, and an electronically-controlled suspension makes for a smooth and probably very enjoyable ride. Saab's computer-generated findings say that this Velociraptor will get to 60 with some change due back from 5 seconds, even if it's only a tenth of a second.
But this isn't just some fantasy race car; the Aero X concept shows ample roominess, thanks to innovative design of the hatchback storage area, which features a high floor with a pull-out storage drawer beneath it. Saab designers say that this feature was necessary in increasing rigidity.
Saab apparently has a goal of building a hot little two-seat coupe, sooner rather than later. But even if nothing like the Aero X ever sees the light of day, this concept makes a statement of independence and progressiveness for Saab. Right now what the company may need most is to prove to the world that it's not just some appendage of GM, but a vital and viable avenue into the most exciting Scandinavian automotive endeavors.