With Labor Day behind us, we can turn our full attention to all the new 2008 cars, trucks, SUVs, wagons and crossovers rolling into showrooms – and decorating the covers of the fall's automotive magazines. I have a couple of annual "New Car" issues within easy reach on my desk right now, and it's great fun to thumb through all the glossy pages, see photos of all the '08 cars back to back to back, compare all the new designs we've heard and read about (and in many cases written about on this site), and of course, pick our favorites.
Choosing the year's best-looking cars is always a subjective exercise. One person's dream car is someone else's design nightmare. But I think I can make a few overall observations about the designs of the Automotive Class of 2008. First, there are very few truly ugly cars out there this year (although I'm not quite sure what Lexus was thinking when it designed the droopy-nosed IS-F sedan, scheduled to arrive early next year). My second observation is that designers have spent an inordinate amount of time and energy focusing on the front ends – or what I call the noses – of 2008 cars.
It's a very noticeable trend this year. A great number of vehicles have received more aggressive, more geometrical, more "designy" noses, with grilles that are pulled deeper into the bumper and angled, wraparound headlights that seem ready to slide off the sides of the vehicles. This look is exemplified by the 2008 Honda Accord Coupe (above), which has a clean, angular, and certainly more aerodynamic look, and gets my vote for one of the best-looking cars this year. The grille is simple in its design, but for some reason it catches and holds my eye. There's something about its design that is classic yet contemporary, and I really like it.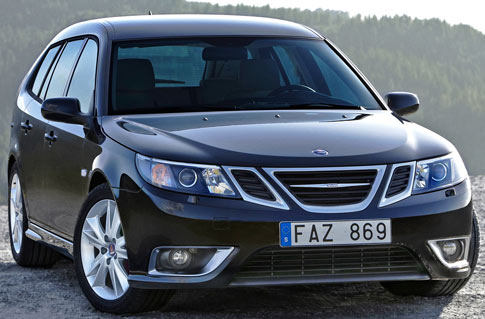 Another example is the 2008 Saab 9-3 (the SportCombi is pictured above), with its new, deeper grille that dips down into the bumper. It's a good demonstration of how to refresh a car's look without alienating long-time fans. And then of course there are the cars like the 2008 Cadillac CTS (below), which sports a wide-mouthed look with a double-bar grille and pointy trapezoidal headlights. There's no doubt that it's an in-your-face design, but it works, and it certainly makes the new CTS a car to watch in '08.

There are many more cars worth mentioning here, like the new BMW 1-Series, with its eye-shaped headlights (very cool); the Chevy Malibu, with its two-section grille; the Ford Focus, with its relatively sedate but no less distinctive grille; and the Subaru Impreza, with its shark-like front end. What's great is that, unlike a few years ago, today's cars have individual character again, and you can actually tell the difference between them when you spot them on the road or on the new car lot. And that's certainly a step in the right direction.